Air date:
Mon, 09/04/2023 -

9:00am

to

10:00am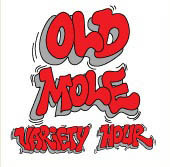 Views, Reviews, and Interviews from a Socialist-Feminist, Anti-racist, Anti-colonial and LGBTQ-positive Perspective
Due to unanticipated problems with production, the Mole's Labor Day Special will be aired on September 18.
Hosted by Frann Michel, this episode focuses on positive responses to the climate crisis, and includes these segments:
PROGRESSIVE CLIMATE SOLUTIONS: Can humanity survive climate roasting? Climate scientists are warning us that we are nearing the point of no return. But there are grounds for hope. We possess all the knowledge, resources, technologies, and a plan to reduce greenhouse gas emissions and concentrations that's been implemented and working in many communities around the planet. Bill Resnick talks to Howie Hawkins, co-founder of the Green Party and energy expert about how that plan can be implemented across the U.S. and industrialized world. 
Left and the Law: HELD V MONTANA: In Helena, Montana, Judge Kathy Seeley ruled on August 14th for the plaintiffs in Held v Montana, marking the first constitutional climate trial in US history. The case was filed in March 2020 by 16 young Montana residents, then aged two through 18. Their lawsuit charged that the state's government's pro-fossil fuel policies contribute to climate change, and thereby violate provisions in the state constitution that guarantee that the "state and each person shall maintain and improve a clean and healthful environment in Montana for present and future generations". In their Left and the Law segment, Jan Haaken and Mike Snedeker talk about the importance of this landmark case and approach the trial as a drama, where the arc of the story and the role of various protagonists shape the denouement.
MUNICIPAL ECO-RESILIENCY: Desiree Hellegers speaks with Kiera Usagawa, Tim Rice, and Yolotli X, organizers with the anti-capitalist Municipal Eco-Resiliency Project (MERP), which is working with Portland households to ramp up food production and advance food sovereignty and climate justice by developing a neighborhood-level network of urban farm cooperatives.
This episode also includes music from ClimateMusic: selections from Erik Ian Wright's "Climate" and Khafre Jay's "Everything Matters."
Update Required
To play the media you will need to either update your browser to a recent version or update your
Flash plugin
.
Download audio file