Air date:
Sat, 04/22/2023 -

4:00pm

to

5:00pm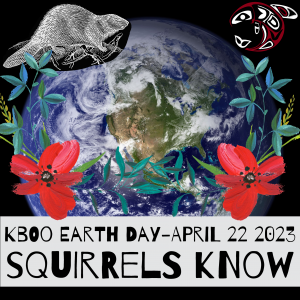 Join Ender Black on a special Earth Day episode of Squirrels Know!  We will be discussing the undeniable beauty of Mother Earth, the immense value of all the multiplicity of beings around us, the injustices that are constantly perpetrated and continually allowed by what seems to be a hopelessly broken political system, as well as the tragic case of ethnocentrism that has enveloped our world for hundreds of years, creating chaos and dismay everywhere we turn.
We also touch upon the mysterious magic of the universe, and how although it might seem as if there is nothing we can do to prevent the demise of our world -since we do happen to live on a predator/prey planet after all-, there are actually hundreds of glorious cosmic energies now embracing each of us with a love and acceptance that most of us stopped believing them possible since shedding the idealism and excitement of childhood.  --- We want to remind you that the value of loving and positive ceremony, belief and ritual can have incredibly potent effects in our physical reality, and this typically understood Indigenous philosophy, is actually embedded in all of us, regardless of age, race or cultural background. It is a sacred code waiting to be activated within all of us.
Earth Day is a good day to remember that all the beings around us are exactly that: beings like us. Crows, squirrels, blue jays, birdies of all colors and sizes, shy and reserved nocturnal mammals, precious cats and dogs; all of them are our fellow beings. We all breathe the same air, drink the same water, struggle the same struggle to live, exist and thrive on a difficult planet. All beings with four limbs. Sometimes they're all legs (ask a dog or a horse), sometimes they're legs with two small hands (ask a cat, a raccoon or a squirrel), sometimes it's legs and wings (ask a crow or a heron), sometimes it's two legs and two arms (ask yourself how you feel today), sometimes it's four legs and a trunk hand (?) (ask an elephant), and sometimes it's two flippers and two flukes (ask a whale or a dolphin). Four limbs, a very unique body, a very unique consciousness. All of us alive.
And just like we humans deserve our space for our buildings and dreams, our fellow beings deserve their forests and oceans to feel. Because we all deserve to have the opportunity to exist, be happy and rejoice in the gifts of beingness. 
And what about the young people, who are slowly but surely inheriting the world? Are we ready to imagine and materialize a world that is more fair, more logical and more sustainable than we have ever envisioned? We must because there is no other choice for our future. What the cynics of old call ridiculous, unrealistic, impractical, irrational and impossible, are nothing but misconceptions of what the activists have always known is perfectly possible: a revolution of thought and emotion for a world caught in commotion. And where we stand, forward in motion with a notion to trot and not stop. 
And now that we are walking the great digital age, we can fascinate, educate and aggregate; independent of the monsters holding all the keys, we now embrace our minds like the squirrel climbs the tree: such a smooth operation. A proper theme. 
_____▒▒▒▒▒_____▒▒▒▒▒
____▒▒▒▒▒▒▒▒▒▒▒▒▒▒▒▒
___▒▒▒▒▒▒▒▒▒▒▒▒▒▒▒▒▒
____▒▒▒▒▒▓▓▓▓▓▒▒▒▒▒
_▒▒▒▒▒▒▓▓▓▓▓▓▓▒▒▒▒▒▒
▒▒▒▒▒▒▒▓▓▓▓▓▓▓▓▒▒▒▒▒▒
_▒▒▒▒▒▒▓▓▓▓▓▓▓▒▒▒▒▒▒
____▒▒▒▒▒▓▓▓▓▓▒▒▒▒▒
___▒▒▒▒▒▒▒▒▒▒▒▒▒▒▒▒▒
____▒▒▒▒▒▒▒_▓▒▒▒▒▒▒▒
_____▒▒▒▒▒_▓____▒▒▒▒▒
______▒▒▒__▓______▒▒▒
____________▓
___▓▓▓____▓
_▓▓▓▓▓▓_▓
▓▓______▓▓
_▓_______▓__▓▓▓▓▓
__________▓_▓▓▓▓▓▓
__________ ▓▓______▓▓
__________ ▓________▓
__________▓
___████████████
_____█████████
_____█████████
______ ███████
______ ███████
_______██████
_______ ████
Update Required
To play the media you will need to either update your browser to a recent version or update your
Flash plugin
.