Air date:
Thu, 11/14/2019 -

5:45pm

to

6:00pm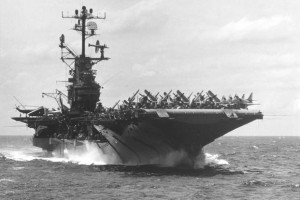 During the Vietnam War, the military sprayed the forests of Vietnam with Agent Orange, a toxic herbicide and defoliant, intended to destroy the ability of rural populations to support themselves. 
The process has had enormous health impacts since, on both Vietnamese people and those soldiers tasked with spraying the forests.
Toxic exposure to Agent Orange has resulted in a high number of cases of leukemia, Hodgkin's lymphoma and other cancers.
The Department of Veteran's Affairs (VA) covers the medical care of those soldiers who worked to spray the forests of Vietnam.
They do not cover members of the Navy who were not stationed in local waterways where the herbicide was being sprayed. 
"Blue Water" Navy veterans are those who were stationed farther from shore, and while at first glance one might think they were spared the impacts, in reality they were exposed to levels of Agent Orange ten times greater that of their on-land counterparts due to the water filtration system on board.
Despite continued efforts, healthcare coverage for "Blue Water" Navy veterans from the Vietnam War has been stayed by the VA, meaning 93,000 veterans exposed to Agent Orange are still without the care they need.
KBOO's Althea Billings spoke to Retired Air Force Col. Rob Maness who is also the Executive Director of Military Veteran's Advocacy, about his efforts to change the ways of the VA. 
Update Required
To play the media you will need to either update your browser to a recent version or update your
Flash plugin
.
Download audio file