Air date:
Tue, 09/24/2019 -

11:00am

to

12:00pm
More Images: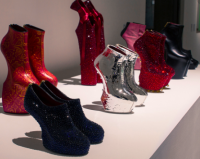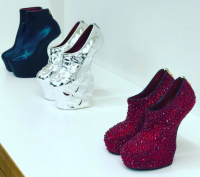 Joseph Gallivan interviews Laura Mueller, art curator at the Portland Japanese Garden, about Noritaka Tatehana
On Tuesday Sept. 24, 2019 at 11 a.m. Joseph Gallivan interviews Laura Mueller, art curator at the Portland Japanese Garden, about Noritaka Tatehana: Refashioning Beauty. This is a show of the art of the young Japanese artist who shot to fame when Lady Gaga started wearing his heelless shoes.  Mueller talks about Tatehana's deep reverence for Japanese crafts, and his attempt to both preserve and modernize them. The artist will give a lecture at the garden at 5 p.m. on Saturday October 5, 2019.  
This special pledge drive show is one hour long including breaks for pledging.
FROM THE PRESS RELEASE:
Portland Japanese Garden presents the art of Noritaka Tatehana in his first-ever North American solo exhibition. Installed in the Pavilion and Tanabe Galleries located within the manicured grounds of the renowned Gardens, Tatehana enchants through his use of traditional symbols of sophistication and beauty with the inclusion of new, never-before-seen artworks created especially for this exhibition. Co-curated by the Garden's Curator of Art, Laura J. Mueller, PhD and Christina Cacouris, a journalist and curator based in New York, the exhibition showcases Tatehana's sculptural and two-dimensional works of art and design that are created by employing the most refined Japanese craftsmanship, re-imagining the timeless appeal of these celebrated symbols for contemporary audiences.
Appropriating traditional signs of Japanese elegance and refinement, Tatehana removes these signs from their original historical context of past centuries and amplifies their symbolic meaning in his art. He emphasizes the practice of takumi (匠), or "master craftsmanship," grounding his work in the virtuosity of execution. In his seminal Heel-less Shoes Series, the raised platform sandals denoting the highest-level courtesans are taken from the cobble pathways of the Yoshiwara entertainment district of Edo (present-day Tokyo) in the 18th and 19th centuries and re-imagined with hand-crafted precision to grace the feet of current society's most fashion-forward celebrities like Lady Gaga and Daphne Guinness.
As part of the opening weekend, Tatehana will give an artist lecture, Crafting the Art of Japan's Future, on October 5. This exhibition is in conjunction with Portland Fashion Week 2019 (October 2-6 at the Old Church Concert Hall in Downtown Portland) Portland's premier annual Fashion Week draws established and emerging fashion design professionals from around the globe. It is one of the oldest in the U.S. and is considered to be the most sustainably produced Fashion Week in the world.
https://japanesegarden.org/events/noritaka-tatehana/

To hear previous episodes of this show or any of our KBOO public affairs programming, just go to KBOO dot F-M or listen on iTunes, Google Play, or wherever you get your podcasts.
Joseph Gallivan has been a reporter since 1990. He has covered music for the London Independent, Technology for the New York Post, and arts and culture for the Portland Tribune, where he is currently the Business Reporter. He is the author of two novels, "Oi, Ref!" and "England All Over" which are available on Amazon.com
This show was recorded at KBOO on Sept 18, 2019 in Production 1.
Update Required
To play the media you will need to either update your browser to a recent version or update your
Flash plugin
.
Download audio file