Air date:
Tue, 06/25/2019 -

11:00am

to

11:30am

More Images: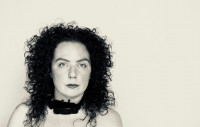 The Risk/Reward Festival of New Performance returns on June 28 through 29 at 730pm and June 30th at 5pm at the Imago Theatre. Dmae Talks with Katie Watkins, festival director and producing artistic director about the five local, regional and international performances Risk/Reward is curating for this season of the festival. Tickets and more info: http://risk-reward.org
(Airs 11am 6/25/19 on KBOO 90.7 FM or always on stagenstudio.com and always on  iTunes)
This season Risk/Reward presents...
Body Home Fat Dance (Portland, OR): Weighted Bodies
dance/movement
Body Home Fat Dance's work is building a new vocabulary of movement—one that feels expressive, accessible, and unique to fat bodies. This movement vocabulary highlights and celebrates jiggles, ripples, folds, mass, and softness—codifying in movement the multidimensional meanings of fat in motion. Through deeply curious exploration—how light and shadow enhance texture and shape, how the momentum of mass creates risk and adventure, how fat intensifies the reverberation of movement—BHFD reclaims the narrative of our bodies and reshape the audience's conception of fatness.
Milton Lim & Patrick Blenkarn (Vancouver, BC): asses.masses
multimedia performance
asses.masses is comprised of a series of short games, each documenting the specific and real contemporary conditions of donkeys in seven distinct countries, industries, and contexts of value. Equus asinus—the ass, the donkey—has played a central role in religion, colonialism, warfare, and the economics of almost every major civilization since its domestication over 5000 years ago. It has symbolized everything from power, strength, and stupidity, to wisdom, piousness, and fertility. In recent years, however, the utility of the ass has been made superfluous in post-Industrial societies and the animal is being 'transitioned' to produce other forms of value.
ilvs strauss (Vancouver, BC): Déjalo
solo mediated theatre
One of the festival favorites is back. ilvs's sea cucumber goes down in history as a highlight for almost anyone who saw it. This summer, ilvs is bringing her most intimate piece yet, delving into her youth — she is speaking English. They are speaking Spanish.
LanDforms (Seattle, WA): The Garden of Expectations
dance/theatre/music/sculpture/horticulture
The Garden of Expectations is a movement piece that presents the audience with a surreal and abstract glimpse into another world, presenting a wealth of symbolic and metaphorical readings, including but not limited to life, death, decay, vulnerability, the consumption of living things for human pleasure, and the never ending search for approval. The Garden of  Expectations turns reality TV on its head, forming its own thoughts about what it means to get the Rose. In this version of dating game show absurdity, challenges include basking in radiant sunshine, drinking water, and putting down strong roots.
Joni Renee Whitworth (Portland, OR): Self-Defense
music/movement/poetry
Self Defense is a passionately-spoken, poetic, slow-moving song and dance, looking at the world through an autistic lens. This stands in juxtaposition to the most commonly-known cultural narrative of autism, which is that of Rain Man – weird and quirky. Many types of people are autistic, and there are dozens of unexplored elements of autism, areas that may be not related to math or memorizing facts but details that are more generous, emotional, or sensual. Self Defense speaks to how Joni navigates being in public, being employed, and being in relationship with family, friends, in love, and more. Through this piece, her engagement with nature, and man-made systems and structures, shed light on cultural issues of exclusion.