Air date:
Tue, 08/08/2017 -

5:00pm

to

6:00pm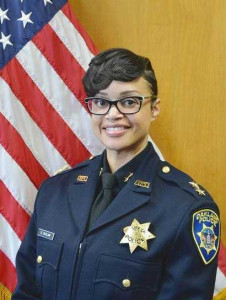 More Images:
Mayor Ted Wheeler announced Monday the appointment of a new chief of Portland police. Danielle Outlaw who is a 19 year veteran of the Oakland police department has been selected to be the new chief in Portland.  Outlaw is only the third person to be selected for the job who is not from the Portland area. She is also the first African-American woman to hold the position.  Outlaw was chosen out of a pool of 33 candidates assembled in a nationwide search that lasted approximately 3 months.  Mayor Wheeler released a statement late Monday afternoon saying he chose Outlaw based on her ability to work with diverse communities, and her ability to lead an organization committed to community policing, transparency and accountability. She is expected to begin her new job by October 2, replacing Mike Marshman who took over the job in June 2016 after the chief before him Larry O'Dea was under investigation for shooting a friend in a hunting accident.
You might remember back in June when the Trump Administration officially stated his intentions to withdraw the U.S. from the Paris Climate Accord. Well, it appears that some Foreign States are still a little confused by the move… and U.S. Diplomats are being advised on how to respond.  U.S. Secretary of State Rex Tillerson sent a memo to Embassies last Friday ordering US Diplomats to be vague about the US's position on re-engagement, but to be very clear on the US's commitment to coal and other fossil fuels; something Trump has been very vocal about. The Paris Accord, which saw signatures from nearly 200-countries back in 2015… this included the US under President Barack Obama… sought to limit our ecological impact by placing restrictions on main offenders such as fossil fuels. Part of the agreement includes a timeline restriction; under any normal circumstances, the US would not be able to withdraw from this accord until the year 2020; and it would appear that a speech isn't enough to accomplish that.  Trump has expressed an interest in potentially re-engaging; yet remaining characteristically vague about what manner or form that would take. 
The European Court of Human Rights has stopped the deportation of a Gay Journalist to his native country of Uzbekistan, the Washington Blade is reporting.  Ali Feruz, who reports for the independent Russian Newspaper Novoya Gazeta, is now in custody in Moscow after two years of seeking asylum, claiming that he will be tortured if he is returned to Uzbekistan, where homosexuality is a crime.  For the moment, he appears to be safe. However, Feruz's lawyer made a statement on Tuesday, claiming that he saw huge bruises on Feruz. Feruz has additionally made claims of being beaten and tazered and insulted with anti-gay slurs by Russian Police. Russia is a member of the Council of Europe, and is a signatory to the European Convention of Human Rights. However, in 2015, Russian President Vladmir Putin signed a law that allows their Constitutional court to decide whether or not they should comply with similar rulings. For the moment, however, the Russian Courts are erring on the side of Feruz's safety.  Denis Krivosheen, a deputy director for Amnesty International, has made a statement calling the suspension of his deportation a good first step. But he states that, quote, "his continued detention is disgraceful. He has committed absolutely no crime."
                           
Update Required
To play the media you will need to either update your browser to a recent version or update your
Flash plugin
.
Download audio file