Air date:
Tue, 02/11/2020 -

11:00am

to

11:30am
More Images: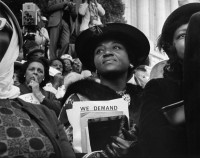 Our Fathers Who Aren't In Heaven - Michael Johnson documentary
Dmae presents a Black History Month documentary, Our Fathers Who Aren't In Heaven, produced by Michael Johnson. This half-hour piece originally aired in 1994 as part of Legacies: Tales From America, a 13-part series of multicultural personal stories produced by Dmae Roberts and MediaRites.
(Airs 11am 2/11/18 on KBOO 90.7 FM or always on stagenstudio.com and always on  iTunes)
Our Fathers Who Aren't In Heaven chronicles Michael Johnson's relationship with his father, David Johnson, a prize-winning African American photographer who documented the civil rights movement in America in the 1950s and 1960s. In this half-hour documentary, we hear abut the often distant relationships that fathers have with their sons. The piece is introduced by James DePreist, former music director of the Oregon Symphony.
All featured photos are by David Johnson.
Michael Johnson is an award-winning radio producer who lives in San Francisco.
About David Johnson–
David Johnson, now 84 years old, fell in love with photography at age 12. He happened to win a small camera in a contest and began snapping photos. After a stint in the navy, he decided to study photography and while browsing through Popular Photography, he saw a small article that Ansel Adams was setting up a photography department at the California School of Fine Arts in San Francisco (now the SF Art Institute). He wrote to Adams and was accepted into the program.
Mr. Johnson lived in Ansel's house in the beginning and worked in his darkroom. Eventually he moved out and rented a room in the Fillmore which is where he began meeting the early leadership of African-Americans emerging in the city.
After working for the newspaper and opening a small studio, Mr. Johnson continued to document the social, political and private lives of African-Americans living in the Fillmore District - the jazz clubs, street scenes, the civil rights movement in San Francisco, and the neighborhood changes – always with an eye for depicting people positively, with dignity and respect. Ansel Adams told his students to photograph what they knew. For Mr. Johnson, this meant documenting life on the streets and in the clubs of the Fillmore district. In 1947, Mr. Johnson became a staff reporter for the emerging Sun-Reporter.
You can hear this piece again on official StageNStudio.com site!
And 'like' the Stage & Studio Facebook page.
Or Tweet Us at: StageNStudio!