Air date:
Mon, 07/31/2023 -

9:00am

to

10:00am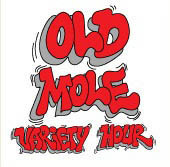 Views, Reviews, and Interviews from a Socialist-Feminist, Anti-racist, Anti-colonial and LGBTQ-positive Perspective
Patricia Kullberg hosts this episode of the Old Mole, which includes the following segments:
Covid, Polio, and Medical Populism: Norm Diamond speaks with Patricia Kullberg about the ambiguous role of so-called medical populism as it has played out during the Covid epidemic and earlier during the mid-twentieth century polio epidemic in this country. Medical populism often rises up out of legitimate grievances, with the potential both to promote rightful challenges to elite medical institutions and to spread clinical disinformation that is harmful to public health. Dr. Kullberg is a retired medical doctor and public health official.
The Science (and Business) Behind Covid Disinformation: Patricia Kullberg as our Well-Read Red, reads excerpts from an article by epidemiologist Katelyn Jetelina, who finds that Covid-19 disinformation is coordinated, effective, lucrative, and cost lives. The article was originally published on a Substack Newsletter called Your Local Epidemiologist and re-published on Portside on January 20, 2023. Dr. Jetelina has a PhD in epidemiology and biostatistics and works as a public health policy analyst.
In Memoriam, Palesa Clementina Mofana Kendall Mofokeng: Desiree Hellegers revisits an earlier segment on the life and 2021 death from Covid of Palesa Mofokeng, adopted daughter of playwright, actor, and Portland street photographer Kendall. Given the choice of a life of relative privilege in the U.S., and serving as an LPN and a sangoma–a traditional South African healer– Palesa chose South Africa. As an unvaccinated healthcare provider, she died amid riots in South Africa, spurred in part by the jailing of former President Jacob Zuma, but more broadly by widespread desperation, hunger and inequality born of centuries of colonial violence and exploitation and exacerbated by Covid and the lockdown.
Update Required
To play the media you will need to either update your browser to a recent version or update your
Flash plugin
.
Download audio file