Air date:
Mon, 01/09/2023 -

9:00am

to

10:00am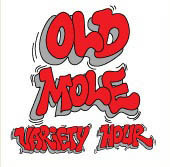 Views, Reviews, and Interviews from a Socialist-Feminist, Anti-racist, Anti-colonial and LGBTQ-positive Perspective
Jon Nelson hosts this episode of the Old Mole, which includes the following segments:
Labor Under Siege: Laurie Mercier talks to Harvey Schwartz about his new book about the International Longshore and Warehouse Union (ILWU), Labor Under Siege: An Oral History of Big Bob McEllrath and the ILWU's Fight for Organized Labor in an Anti-union Era.  Schwartz  is curator of the Oral History Collection at the International Longshore and Warehouse Union (ILWU) library in San Francisco and the author of a number of books about working people, including Building the Golden Gate Bridge: A Workers' Oral History; Solidarity Stories: An Oral History of the ILWU; and The March Inland: Origins of the ILWU Warehouse Division, 1934-1938. Mercier and Schwartz discuss how strategies employed by the ILWU to survive and thrive during the anti-union era of the late 20th and early 21st centuries offer lessons to today's resurgent labor movement.
Death Penalty: On December 13, 2022, Governor Brown commuted the capital sentences of all 17 death row prisoners and instructed the department of corrections to begin dismantling the state's execution chamber. Thirty-seven states — nearly three quarters of the country — have now abolished the death penalty or not carried out an execution in more than a decade. In their Left and the Law segment, Jan Haaken and Mike Snedeker look at the historical decline in support for capital punishment and what this portends for life without the possibility of parole, another sentencing feature of the US carceral system.
The Fourth Extinction: Can we, humanity, prevent the fourth great extinction and looming climate roasting? Bill Resnick talks to Tierra Curry of the Center for Biodiversity. She's a Senior Scientist and Director of the Center's Saving Life on Earth Campaign. She discusses the long standing stalemate of international negotiations for preventing the fourth species extinction and the deterring of climate change and concludes on a note of optimism.
Update Required
To play the media you will need to either update your browser to a recent version or update your
Flash plugin
.
Download audio file