Air date:
Fri, 09/16/2022 -

10:30am

to

11:00am
More Images: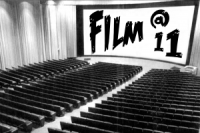 KBOO stalwart Ed Goldberg joins us to discuss Three Thousand Years of Longing, while Jeff Godsil is thrilled to discuss Leave Her to Heaven, directed by the underrated John Stahl from the novel by Ben Ames Williams, and shot in glorious Technicolor by Leon Shamroy, who turned a film noir into a film soleil,   and finally in the book corner, we assess the recent second edition of the BFI Film Classics monograph on Mother India, Mehboob Khan's classic from 1957, and starring Nargis as the epitome of rural tenacity. 
––––––––––––––––––––––––––––––––––––––––––––––––––––––––––––––––––––
If you want to get into the movie business go to India. Oregon's James Ivory did so, where he made features such as Shakespeare Wallah and found a handful of collaborators, which led to a lengthy career of high-toned adaptations in the west. Fritz Lang made a couple of films there late in his career when no other industry would have him. The Indian film business is bigger and more productive than any other in the world, and apparently is a quiet and agreeable place to work in an otherwise divided nation. 
But it remains vastly unknown. Louis Malle made an immense documentary there, Phantom India, but at that time it barely scraped the surface. 
Thus, Gayatri Chatterjee is taking on not just an immense history but also an epical drama with her book for the BFI Film Classics series on Mother India, now in its second edition. 
Mother India was released in 1957, and it's a remake or variation on an earlier film by the same director, Mehboob Khan. This time, however, the film is in glorious Technicolor, and the story is altered in significant directions more to emphasize the story of Radha, played by Nargis, who went on to be one of India's most important performers, and even a member of parliament.  The film begins with Radha's wedding ceremony, in a rural village, and portrays some of the indigenous formalities of marriage, along with the hardships of farming and the chronic usurious money lenders, one of whom has the hots for Radha. The subsequent story tracks the disappearance of the overwhelmed husband, the growth of her two sons, her attempts to ward off the usurer, who now possesses her beloved bracelets (this jewelry being important in at least this area of Indian culture. One son grows up to be weak like the father, the other "bad," or independent like the mother, and with a loathing for the usurer.  There is a flood, followed by the village's low moral, and Radha's inspiring speech (actually a song), before a final reckoning with the money-lender and her son and a terrible choice she has to make. 
Ms. Chatterjee is a real historian and received permission from Mehboob Khan's heirs to have full access to his office and all his papers relating to the film and his production company. Her history provides an interesting take on how then-Bombay filmmaking and distribution worked. 
She explains Indian rituals, beliefs, Hindu gods, and fashion choices. She gives a detailed account of the photography by Faredoon Irani, who was injured during the flood scene when leaping off a platform to save his favorite camera.   She deals with the film's complex editing and the dances with Indian censorship bureaucracy, whose concerns were much different from American censors, more political in the tense post-Partition era. 
And as is well known, even serious dramas such as Mother India have music interludes. Ms Chatterjee explains this feature of Indian cinema in two passages: from page 73: "It is well known that studio films in India generally contain over half a dozen songs. But when it comes to song – pictureisation accompanying tragic moments, the practice comes under greater scrutiny. Some viewers think songs halt narration and feel irritation at such apparent excess. However, let us explore this particular sequence [that is, the peroration to the villagers after the flood]. If Radha were to approach each family (even a few representative ones) with her plea to stay on, there would have had to be an inordinate amount of dialogue, emotion, and rhetoric. That could hardly be contained in three minutes of film time. Songs can economize on film time or stretch it; we see instances of both in this film." And from page 65: "If film narratives show why and how something happens, songs tell us what we feel or how we could feel. Cinema raises feelings buried within psychic levels; songs voice them, helping the audience to come to terms with or sublimate them. The last possession an impoverished family holds on to is dignity; and it falls on women to guard that on behalf of family and community. Women, indeed, come to signify that last possession. The song [between mother and son] continues, 'A true woman carries upon her the burden of shame of the entire world. Her modesty is her dharma [her rule of conduct, life's imperative].' It ends with an un-gendered aspiration, 'Those who have lived with dignity will die with dignity, too.' But Radha does not know how precariously close she is to losing even this last possession. 'This is not lyric but a lecture! Did you find it difficult to set these rhetorical sentences to melody?" I asked, when I interviewed Naushad [the composer]. In both Hindu and Islamic religious traditions, songs are discursive or narrative — and not merely lyrical. They tell stories, discuss ethical and philosophical issues. 'This was not unusual for me", Naushad replied. 'It can be described as a melodious way of rendering a discourse – not the same as a pure song.'" 
The 2nd edition now opens with a three page introduction, in which the writer assesses the film's still global appeal, makes a closer examination of the film with its first version, the role of money in the industry's culture, and the film's philosophy of ruralism and family ties. 
Mother India is a version of Aurat from 1940, and was remade in 1971 as Bangaru.  And by the way, thus far the BFI has other monographs on Indian cinema, the 1995 Bombay and Dilwale Dulhania Le Jayenge, and Cloud Capped Star from 1960. And of  course Satjajit Ray's Pather Panchali released in the same year as Mother India, 1957. Though a global art house hit, the film and its two successors were not as popular at home, and Nargis herself later criticized the film as politically backward. 
Also helpful are two other books. Not to turn this into home work, but India is a vast subject. Two books in the Oxford Very Short Introductions series help out, Modern India by Craig Jeffrey, and Indian Cinema by Ashish Rajadhyaksha. Both fill in some of the gaps that an 112 page monograph can't squeeze in 
We've been talking about the BFI monograph Mother India, by Gayatri Chatterjee. now in a second edition.
Update Required
To play the media you will need to either update your browser to a recent version or update your
Flash plugin
.