Air date:
Mon, 05/30/2022 -

9:00am

to

10:00am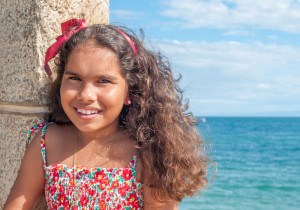 Views, Reviews, and Interviews from a Socialist-Feminist, Anti-racist, Anti-colonial and LGBTQ-positive Perspective
Girl of Venezuela: Image courtesy of Wikimedia Commons
Norm Diamond hosts this episode of the Old Mole, which includes the following segments:
Can humanity survive climate change? In his profoundly important essay "World War II Lessons for a Green New Deal,"  Martin Hart-Landsberg shows the way. In rich detail he describes the planning and politics of transformation, when the Roosevelt Administration took control of the U.S. state and from 1941 to 1944, overcoming considerable opposition from corporate America, to transform industry and build the most effective armed force in world history. The Old Mole's Bill Resnick discusses with Hart-Landsberg how the planning and development must be participatory and democratic and take place at federal and local levels. Martin Hart-Landsberg is a professor emeritus of economics at Lewis and Clark College here in Portland. He's written seven books on the process of economic development mostly in East Asia. He is also the chair of Portland Rising, a committee of Portland Jobs with Justice and he writes the blog Reports from the Economic Front.
Venezuelan Women: DSA International Committee and CODEPINK are teaming up to host three Venezuelan feminist activists, Mónica M., Anggie H. and Yolimar M., to the United States to discuss the impact of illegal US sanctions against their country, how they disproportionately hurt women and children, and also how Venezuelans have resisted US aggression. Luisa Martinez interviews Leo Flores of CODEPINK to talk about this tour, The People's Summit where the women will end their tour, and broadly about what meaningful international solidarity sounds like. You can read more about the tour here.
Poetry and Baseball: For one day this season, every player wore number 42, Jackie Robinson's number, to celebrate 75 years of major league desegregation. Matt Witt's poem about his meeting as a seven-year-old with Roy Campanella, Robinson's teammate and another great Black player, reminds us of the racial history beneath starry-eyed fandom.
Smelter Wars: For our regular segment Another World Is Possible, Norm Diamond continues his conversation with Ron Verzuh, author of the just released book, Smelter Wars. The smelter in question is just across the Canadian border along the Columbia River, and the book covers the history of worker organizing there, from company union to Communist-led union to McCarthyism. In this part of the conversation, Norm and Ron talk about the significance of Communist Party leadership in the union, what difference it made, and the dilemmas posed by women workers during World War II. You can read Part One here. Part three will continue in the next episode of AWP with the choices faced historically by the non-Communist left, and different visions of radical and militant unionism. 
Update Required
To play the media you will need to either update your browser to a recent version or update your
Flash plugin
.
Download audio file