Air date:
Fri, 04/29/2022 -

10:30am

to

11:00am
More Images: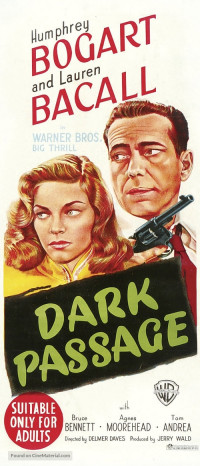 This week on  Film at 11 Natalie Lasko will take a look at the recent Drive My Car, which won the Oscar for Best International Film, while Jeff Godsil revisits Auto Focus, about the Bob Crane case, and Matthew of KBOO's monthly Gremlin Time offers up Dark Passage, with Bogart and Becall. On DVD this week is the new Criterion edition of 'Round Midnight, the late Bertrand Tavernier's paean to jazz in France, from 1986.
–––––––––––––––––––––––––––––––––––––––––––––––––––––––––––––––––––––––––––
'Round Midnight
It's a dream come true for a fan. A chance encounter with a revered figure leads to a friendship. There are attendant difficulties, but they become truly close friends and influence each other.
Variations on the story include Notting Hill, along with recent British movies about visits by Marilyn Monroe and Gloria Grahame, in which ordinary people interact with the stars. But there's something especially poignant about 'Round Midnight, the late Bertrand Tavernier's film from 1986, a lengthy account of a Parisian graphic designer and jazz fanatic who ends up becoming friends with a jazz musician loosely based on Bud Powell and Lester Young.
Here Francis Borier (François Cluzet, sort of a good looking Dustin Hoffman) plays a jazz buff who can't afford to enter the Blue Note club so squats outside at a vent to listen to the music of Dale Turner (Dexter Gordon). During a break, Turner sees Francis loitering on the sidewalk outside and marks him as someone from whom he can cage a drink or two. This gets him into the club, and eventually after some drink and drug difficulties Francis decides to take care of him in his apartment, which he shares with his preteen daughter. Francis is not the worlds most perfect person. His jazz obsession and difficulty finding employment ended his marriage, and there's one moment that indicates he may have struck his daughter in the past, but he mothers Dale back to health and ends up even accompanying him to New York City when Dale is signed up by a promoter, played by Martin Scorsese.
This is a world of tangential crooked streets, smoky bars with neon signs, late nights, improvisations, libertinage, and the pursuit of music, wonderfully rendered by art director Alexandre Trauner, who worked with Billy Wilder among many others. Most remarkable is Dexter Gordon as Dale, playing with such naturalism the film feels like documentary when he is present. With his raspy voice and his peculiar habit of referring to his friends as "Lady" this or that, Dale carries the history of jazz in his 6 foot five frame. At one point Dale lies his way out of hospital incarceration, by telling the truth about his haunting nighttime dreams of jazz.
One of the great jazz improvisers, Gordon apparently improvised some of the dialogue and helped give greater authenticity to the screenplay that Tavernier co-wrote. He found portrayals of jazz musicians as tragic figures irritating.
The extras are unusually rich, beginning with a video of Gary Giddins, who is one of the best extras suppliers for Criterion, having done highly informative work on their disc of the King of Jazz, Bing Crosby's first appearance on screen, and who is the subject of Giddins's ongoing multi-volume biography of the singer
There's a video interview with Dexter Gordon's widow, a contemporaneous "making of" documentary, a panel discussion from 2014 which also includes Maxine Gordon, but also director Tavernier, and a film from 1969 of Dexter Gordon performing "Fried Bananas."  
Inside the box is an insert containing a powerful essay by Mark Anthony Neal.
Round Midnight is one of Bertrand Tavernier's greatest films, and probably the title most known in America in a career of some 30 films, a career parallel to his work as a film critic and historian, and the head of a film festival in his hometown of Lyons. Fortunately we still have his books on cinema, and we all await his forthcoming update of his imperative book 50 years of American Cinema, updated to 100 years.
Update Required
To play the media you will need to either update your browser to a recent version or update your
Flash plugin
.