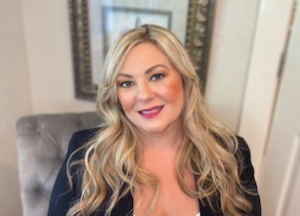 Don Merrill interviews Amber Richardson, a candidate for Oregon governor
DISCLAIMER: 
Ben Morris, who is the Communications Director at the Oregon Secretary of State contacted KBOO on 4/20 with the following corrections regarding answers given by Amber Richardson in her 3/16/22 interview with Don Merrill.  Mr. Morris' comments are posted here in their entireity. 
---------
Hello KBOO team,
My name is Ben Morris and I'm the communications director at the Oregon Secretary of State.
In a recent interview conducted by Don Merrill, Amber Richardson makes several false statements about Oregon elections that go uncorrected. False information contributes to the erosion of trust in our elections systems and should not be broadcast without
correction. Can you let me know what KBOO is able to do to correct these  issues for your listeners? Happy to chat if I can be helpful.

From the interview:
1. Richardson states that Oregon has been using the same voter rolls since 1994. And that Multnomah county only cleaned 4 voter rolls since 1994. This is false. The Elections Division regularly updates voter  registration lists  to remove deceased people, people who have moved, and other changes that impact eligibility. Oregon is a member of the Elections Registration Information Center (ERIC), a national data sharing system that ensures sharing of up-to-date voter registration information across states. Oregon is also a member of the National Change of Address, a system that provides a secure dataset of individuals and families that have filed a change-of-address with the USPS. These reports are shared to counties monthly to ensure up to date information. Similarly, the state receives information from the Health Authority and other state agencies that is regularly shared compliment national information. And daily the DMV and Elections Division share information to reflect automatic and online voter registration information. This year-round widely sourced information sharing ensures that when we mail ballots, they go to an accurate list.

2. She claims that her party affiliation was switched to NAV. This is a common election myth - https://www.oregonlive.com/politics/2020/05/no-elections-officials-didnt... It stems from confusion about the closed primary system in Oregon. What Richardson is alleging here goes a step further. She's saying that election workers changed her record purposefully. That's a serious allegation and it's false. Elections officials never change a person's voter registration unless the voter asks us to.

3. She says that you can only vote on property taxes if you're registered as a Republican or Democrat. That's false. Nonpartisan measures are put on every ballot regardless of party affiliation. We have a PSA up on our youtube - https://www.youtube.com/watch?v=TsvxykXloD4 -  page that addresses this issue.
Ben Morris
Communications Director
Oregon Secretary of State
---------
Amber Richardson is a republican running for Oregon's governor.  She talked with Don Merrill about how nobody will trust the election process until it returns to honest, open and fraud free balloting, her promise to protect Oregon's veterans and elderly and how she will do all she can to return Oregon to the amazing state she remembers as a child. 
Update Required
To play the media you will need to either update your browser to a recent version or update your
Flash plugin
.