Air date:
Tue, 03/08/2022 -

11:30am

to

12:00pm
More Images: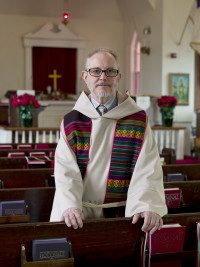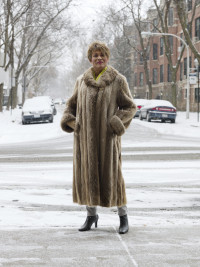 Jess T. Dugan on their show To Survive on This Shore: Photographs and Interviews with Transgender and Gender Nonconforming Older Adults.
On Tuesday March 8, 2022, Joseph Gallivan interviews photographer Jess T. Dugan about their show To Survive on This Shore: Photographs and Interviews with Transgender and Gender Nonconforming Older Adults. This photo exhibition is at Portland State University through April 30, 2022. Dugan's photos are presented as large color prints next to first-person texts collected by social worker Vanessa Fabbre. Dugan talks about letting the subject choose their own props and context, working with a medium format digital camera, and making elder trans people visible again in an age when attention has shifted to trans youth.
This show was recorded remotely by Zoom video conferencing software on March 3, 2022
FROM THE PRESS RELEASE
To Survive on This Shore: Photographs and Interviews with Transgender and Gender Nonconforming Older Adults
By Jess T. Dugan and Vanessa Fabbre
Representations of older transgender people are nearly absent from our culture and those that do exist are often one-dimensional. For over 5 years, photographer Jess T. Dugan and social worker Vanessa Fabbre traveled throughout the United States creating To Survive on This Shore: Photographs and Interviews with Transgender And Gender Nonconforming Older Adults. Seeking subjects whose lived experiences exist within the complex intersections of gender identity, age, race, ethnicity, sexuality, socioeconomic class, and geographic location, they traveled from coast to coast, to big cities and small towns, documenting the life stories of this important but largely underrepresented group of older adults. The featured individuals share a wide variety of life narratives spanning the last ninety years, offering an important historical record of transgender experience and activism in the United States. The resulting portraits and narratives provide a nuanced view into the struggles and joys of growing older as a transgender person and offer a poignant reflection on what it means to live authentically despite seemingly insurmountable odds.
Jess T. Dugan is an artist whose work explores issues of gender, sexuality, identity, and community. For the past decade, Jess has photographed people within queer and transgender communities, focusing on the complexities of identity, gender, and sexuality. Jess earned a BFA in photography from the Massachusetts College of Art and Design, a Master of Liberal Arts in Museum Studies from Harvard University, and an MFA in Photography from Columbia College Chicago. Jess regularly exhibits internationally and has work in several museum collections. Website: http://www.jessdugan.com/
Vanessa Fabbre, PhD, LCSW is an Assistant Professor at the Brown School of Social Work and Affiliate Faculty in Women, Gender, and Sexuality Studies at Washington University in St. Louis. Vanessa's research explores the conditions under which LGBTQ people age well, and what this means in the context of structural forces such as heteronormativity, heterosexism, and transphobia. Her research has been published in the Journal of Gerontology, Social Sciences, Social Work, The Gerontologist, the Journal of Gerontological Social Work, and the Journal of Urban Health.
https://sites.google.com/pdx.edu/to-survive-on-this-shore/home
THE BIG ASK
Are you listening? 
KBOO Radio is a volunteer-run nonprofit and it needs your money if you are listening. 
Go here to donate. https://secure.givelively.org/donate/the-kboo-foundation/2021-kboo-spring-membership-drive
It's like smashing the like and sub buttons. 

To hear previous episodes of this show or any of our KBOO public affairs programming, just go to KBOO dot F-M or listen on iTunes, Google Play, or wherever you get your podcasts.
Joseph Gallivan has been a reporter since 1990. He has covered music for the London Independent, Technology for the New York Post, and arts and culture for the Portland Tribune, where he is currently a Feature Writer. He is the author of two novels, "Oi, Ref!" and "England All Over" which are available on Amazon.com
Update Required
To play the media you will need to either update your browser to a recent version or update your
Flash plugin
.
Download audio file