Air date:
Mon, 10/04/2021 -

9:00am

to

10:00am
Views, Reviews, and Interviews from a Socialist-Feminist, Anti-racist and Anti-colonial Perspective
To thank the generous supporters of community radio in Portland, the Old Mole Variety Hour is sponsoring gift prints of one of Bette Lee's photos to 10 lucky listeners who contribute during KBOO's 2021 fall membership drive. To view Bette's photos and learn details about the photo give-away, visit Thirty Years in the Streets of Portland: the Activist Photography of Bette Lee.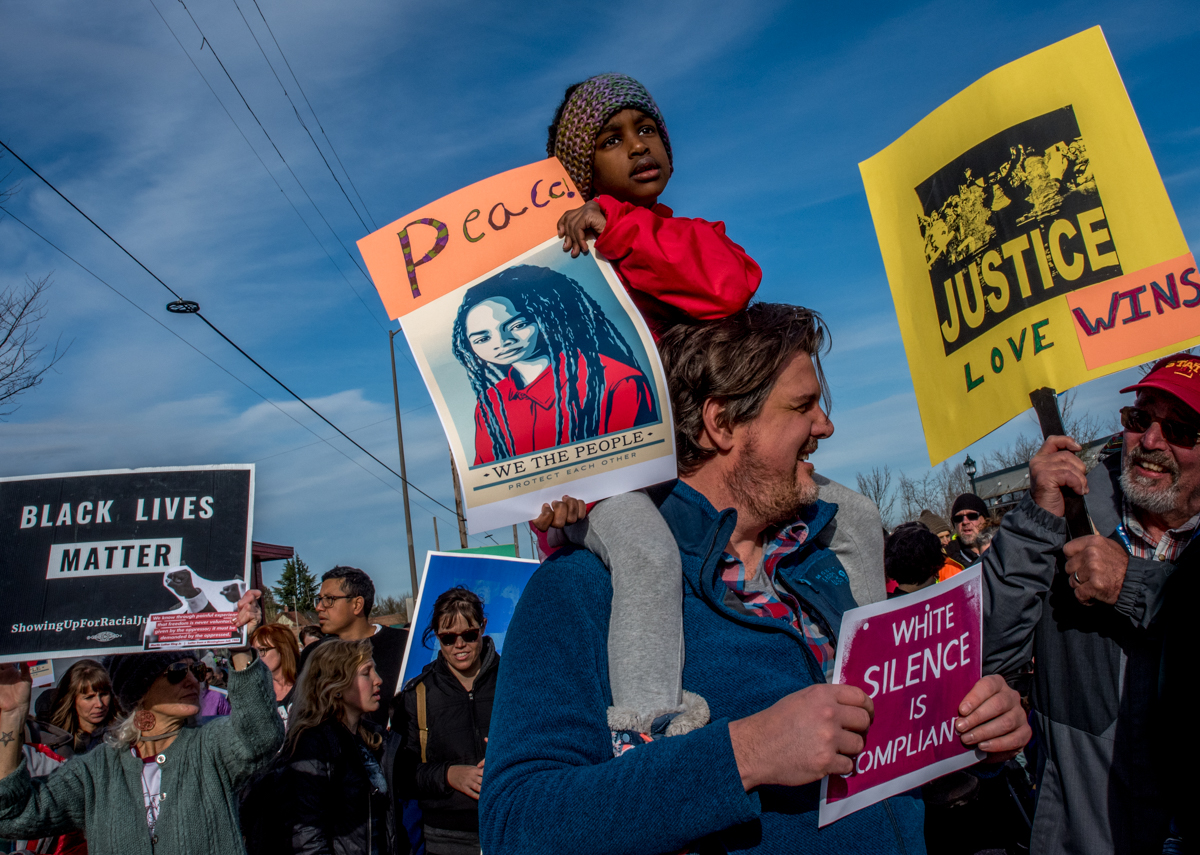 2018 Black Lives Matter march to honor MLK's birthday
Photo by Bette Lee
Norm Diamond hosts this episode of the Old Mole, which includes the following segments:
Energy Crossroads: Today in the conclusion of a two part interview Bill Resnick and Al Weinrub discuss the future of the energy grid. In part one they compared the two contesting plans for stopping climate cataclysm. They argued that the corporate plan, with its huge, remote nuclear plants and sun and wind farms, connected to the cities by a fantastically expensive continent-spanning super grid, would hardly get off the ground in the time available. In contrast, the left plan, already operating in some cities around the globe, involves a decentralized network of community-based sun and wind installations near the point of use. It is proving to be far more reliable, less expensive, and faster to build out than the corporate disaster in the making. In part two, Bill and Al talk about how climate action movements could mobilize the necessary resources, despite the short timeframe and ongoing corporate dominance of the economy and state. Physicist Al Weinrub recognized early on the dangers of global warming. He left an academic career to become a community organizer to help build a movement that could lead the reconstruction necessary to save us from unimaginable catastrophe on an uninhabitable planet. He co-founded and serves as coordinator for the Local Clean Energy Alliance of the Bay Area. He has written several books on California energy including the classic book, Community Power: Decentralized Renewable Energy in California and co-edited the book Energy Democracy.
Cryptocurrencies and Democracy: Jan Haaken talks with Emaline Friedman about cryptocurrencies, how they function in the world of banking and finance, and critiques within the left on these digital technologies. Friedman is a psychologist and social theorist working at the intersection of subjectivity and digital technologies and the author of Internet Addiction: A Critical Psychology of Users. She is a regular contributor to the Old Mole on the topic of digital technologies and ways of bringing cooperative and anti-capitalist values into the digital world.
Another World Is Possible: Luisa Martinez joins Norm Diamond for a dramatic reading from Kim Stanley Robinson's 2020 novel The Ministry For the Future, after which Norm discusses the novel's approach to climate change and social change more broadly. It's rare in fiction for an author to attempt a plausible description and explanation for how fundamental social transformation could occur, but that's what this unusual novel does. Norm situates it in the context of Robinson's whole body of work exploring alternative social possibilities.
Update Required
To play the media you will need to either update your browser to a recent version or update your
Flash plugin
.
Download audio file