Air date:
Tue, 06/22/2021 -

11:30am

to

12:00pm
More Images: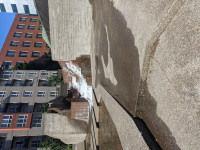 Kenny Helphand on internationally famous landscape architect Lawrence Halprin
On Tuesday, June 22, 2021, at 11:30 a.m. Joseph Gallivan interviews Kenny Helphand [PROUNCED HELL-fand] about the internationally famous landscape architect Lawrence Halprin, who designed downtown Portland's Open Space Sequence, which includes the Keller and Lovejoy Fountains. Helphand curated the show "Lawrence Halprin, Fountains" which celebrates Portland's Open Space Sequence, and runs from June 23 to mid September 2021. Helphand takes host Joseph Gallivan on a walking tour of the Open Space Sequence, pointing out forgotten details and explaining Halprin's fascination with water flow and his genius in helping bringing stylized nature to Portland and making the city more walkable.
The OJM is organizing walking tours of the fountain sequence from July onwards.
FROM THE PRESS RELEASE:
"Lawrence Halprin, Fountains"
June 23 – September 26, 2021
Lawrence Halprin stands as one of the great landscape architects of the twentieth century. In a distinguished career spanning 60 years, he created numerous iconic and trailblazing projects. His signature design methodology and the series of workshops that he developed with his wife, choreographer, and dancer Anna Halprin, grew to be landmarks in creative design practice. Halprin's work helped to spark a renaissance in landscape architecture in the United States and evolved into a model for creative and innovative work that addresses the urban condition. 
In 1963 the Portland Development Commission invited Lawrence Halprin and Associates to design a series of fountains in Portland's downtown. Lawrence Halprin, Fountains celebrates Portland's Open Space Sequence, a reinvention of public space in the city's first urban renewal district, that wiped away a Jewish immigrant community and replaced it with fountain plazas that launched the city's traditions of world-class public space and urban greenspaces.  
In partnership with the Architectural Heritage Center, we will offer weekly walking tours of the South Portland neighborhood that features the fountains and were once the thriving home to the majority of the city's Jewish community.
Companion exhibit
The Architectural Heritage Center, AHC, is presenting a companion exhibition, South Portland and the Long Shadow of Urban Renewal, which examines the rise, fall, redevelopment, and future of South Portland. This exhibit looks at the logic and motivations of city leaders, beginning in the 1950s, whose redevelopment efforts focused on the future at the expense of the city's past and present. These ambitions and impacted residents, businesses, and property owners in one of the city's most diverse neighborhoods. But it also steered a stagnant, conservative city toward a modernist and meticulously planned aesthetic. OJMCHE and AHC members have reciprocal free admission to these exhibitions.
Art Focus airs live at 11.30 am on Tuesdays and is archived to the KBOO website that evening. 
https://www.facebook.com/kbooartfocus
AND ANOTHER ASK….
Are you listening? 
KBOO Radio is a volunteer-run nonprofit and it needs your money if you are listening. 
Go here to donate. https://secure.givelively.org/donate/the-kboo-foundation/2021-kboo-spring-membership-drive
It's like an old school version of smashing the like and sub buttons. 

To hear previous episodes of this show or any of our KBOO public affairs programming, just go to KBOO dot F-M or listen on iTunes, Google Play, or wherever you get your podcasts.
Joseph Gallivan has been a reporter since 1990. He has covered music for the London Independent, Technology for the New York Post, and arts and culture for the Portland Tribune, where he is currently the Business Reporter. He is the author of two novels, "Oi, Ref!" and "England All Over" which are available on Amazon.com
This show was recorded by on a handheld Zoom HS2 recorder in Portland on June 18, 2021.
Update Required
To play the media you will need to either update your browser to a recent version or update your
Flash plugin
.
Download audio file