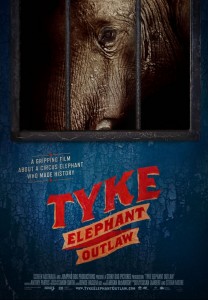 Subscribe to podcast
A conversation with the producers of the tragic story of an elephant who ran away from the circus.
At Voices for the Animals we wanted to bring you news of an important film coming to the Portland Film Festival the first week of September. so we will air at an additional  one hour time slot on August 31st. at 11am  this month.  Join host Courtney Scott for this special program about Tyke whose tragic story ignited a firestorm over the use of elephants in circuses.  From the  film's website: "Honolulu, August 20, 1994. Tyke the elephant goes on a rampage. What happens next will traumatise a city and ignite a global battle over the use of performing animals. Tyke Elephant Outlaw is a gripping and emotionally charged documentary about one elephant's break for freedom and the profound questions it raised about our connection to other species." Join us for an interview with the producers of this gripping documentary, Susan Lambert and Stefan Moore will join us from Sidney, Austraila by phone. Listen live on August 31 or check back for the podcast on KBOOFM.