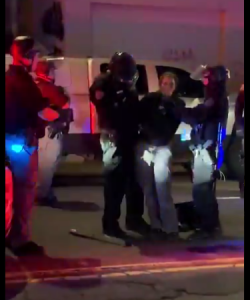 Published date:
Wednesday, July 1, 2020 - 10:55am
Press Contact: Althea Billings, News Director
newsdirector@kboo.org
Two KBOO volunteer contributors, Lesley McLam and Cory Elia were arrested at protests for racial justice in Portland on the evening of June 30th. In a livestream video, McLam and Elia identified themselves as journalists to the police, but were subjected to arrest. KBOO strongly condemns the attacks and arrest of journalists at protests. Volunteer and professional reporters alike are critical to holding the powerful accountable and to the dissemination of vital information to the public. The First Amendment protects protesters and journalists. The nationwide trend of suppressing the freedom of speech or freedom of press by attack or arrest by police is disturbing and must be addressed.