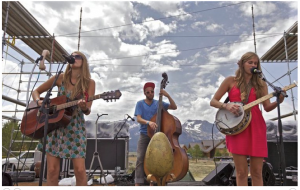 KBOO is a proud sponsor of the Shook Twins in concert, Fri., Sept 21, 2012 at the Mission Theatre
KBOO is a proud sponsor of the Shook Twins at the Mission Theater September 21st
McMenamins and KBOO are proud to present the Shook Twins at the Mission Theater, a perfect setting for such a vibrant and entertaining act. They play on the heels of an extensive tour promoting their latest CD, Window.
"A unique, personal music that lights up the stage with its joy and enthusiasm."
Mason Jennings
Identical twins Laurie Shook (vocals, banjo, percussion and beatboxing) and Katelyn Shook (vocals, guitar and mandolin), are two thirds of the quirky folk trio, Shook Twins. Rounding out the trio, often referred to as the "third twin," is Kyle Volkman on bass. The Shook Twins intertwine gorgeous "twin" harmonies with an eclectic and eccentric blend of folk, roots, pop and fun. Jeff Rosenberg of KBOO's the SoundCircle and the Willamette Week says, "Their songs are witty and well-built, the performances poised, the production adventurous. Recently transplanted to Portland, Shook Twins are the most exciting local folk act I've heard in ages. Strike that word 'local' and the sentiment still stands."
The Shook Twins will be performing their original, fun and quirky folk music, and will be joined by Portland musicians Anna Tivel (fiddle) & Russ Kleiner (drums).
Originally from Sandpoint Idaho, the twins have been making music together since childhood. Playful, warm and lighthearted, a Shook Twins show percolates with the twin's infectious radiant energy. Pristine vocals layered on top of traditional stringed folk instruments, create lovely aural imagery of two women with one sound.
But don't be fooled. The Shook Twins are not your average folk trio. They have a few tricks up their sleeves. Laurie may drop a beat-box in the middle of a song, while Katelyn plays the guitar, glockenspiel, mandolin, and sings into a telephone and bocks like a chicken. Laurie plays wah-wah Banjo and loops various melodies and beats to make it sound like more than just two identical twin sisters. Meanwhile Kyle lays down the groove adding resonant bass lines to the mix. It's a refreshing romp filled with unexpected surprises.
This past year the Shook Twins have been touring behind their sophomore CD Window, released in April 2011, taking them throughout much of the Northwest. Along the way, The Shook Twins have shared the stage with artists including Ryan Adams, Mason Jennings, Laura Veirs, Carolina Chocolate Drops, The Fruit Bats, Michelle Shocked, JJ Gray and MoFro, Crooked Still, Jason Webley, The Head and The Heart and many more.
The evening's special guest will be Luz Mendoza of Y La Bamba.
With Y La Bamba, Luzelena Mendoza draws from both her strict Catholic upbringing as an only daughter of a Mexican immigrant and a debilitating illness that led her to fall away from her faith, to create what LA Weekly calls "Devendra Banhart-influenced art-folk with hazy femme vocals and traditional Mexican sounds."
Mendoza's father immigrated to the Bay Area from the Michoacan region of Mexico after meeting her mother who had received her US citizenship as a teenager. Her father got a job at a southern Oregon sawmill and Luzelena would spend her childhood summers on a farm in California's San Joaquin Valley among peach, almond, and fig orchards. It was in these strong Mexican communities that she would soak up the melodies and the stories that were being told while, as she remembers it, "the men with tassel hats" strummed their guitars and sang their traditional folk songs in three part harmonies. "I remember singing along, mimicking my father's voice and dancing like a little wild child," she recalls. For Mendoza, this music was the only way she could relate to her father, and was a bright spot in a rough childhood.
In 2003, Mendoza traveled to New Zealand and India, in a quest for a deeper understanding of her spiritual growth as an active Christian, hungry for the tools to create a shift on this planet. During her trip to India, she contracted amoebic dysentery and giardia, causing her to suffer from insomnia, lose 60 pounds and fear her loss of sanity. "It shook me in ways I was not expecting, leading me to struggle with my prayer life and search for a healthy relationship with God, the universe, and with myself," says Mendoza of her condition (which was only complicated with a misdiagnosis). "I gave up on Christianity and what religion was starting to mean to me due to a natural awareness that was knocking on my door."
Upon her return to the US, she took in a white six-toed cat to keep her company as she fought to regain her physical, emotional and spiritual health. She christened her new feline companion La Bamba, a name that she incorporated into a moniker for her home recordings and performances at open mic nights in her new home, Portland. Bassist and vocalist Ben Meyercord caught some of Mendoza's open mic performances and the two quickly found a musical connection. In a whirlwind week that she said happened magically, Mendoza recruited Mike Kitson on drums and David Kyle on guitar. Luzelena played in an Ashland band with Kitson when she wanted a more quiet alternative to her early punk roots and Kyle was a musician she met online that shared her spiritual and eccentric philosophies. Intuition told her that she was going to meet the final piece in her musical puzzle and, sure enough, she stumbled upon accordion player Eric Schrepel playing the squeezebox at a puppet show.
With a raw songbook of home recordings under her belt and a new group of musicians to help Mendoza with her musical vision, Y La Bamba began to captivate audiences in Portland and tour stops around the US. Eventually, the quintet would attract the attention of The Decemberists guitarist Chris Funk, who offered his production skills for the band's first studio recording. Funk worked tirelessly to capture Y La Bamba's rustic tones, songs inspired by the traditional tunes of Mendoza's childhood, and her signature vocals that resemble the sounds spilling out of a 1930's Victrola. Dubbing the confidently stunning body of songs Lupon (after a nickname that Mendoza's father despised), Y La Bamba has emerged from the studio, ready to wow listeners everywhere.
The Shook Twins will be doing a live in-studio performance for The Monday Sampler on September 17th between 2 & 4pm, and tickets for the Mission Theater show will be given away!