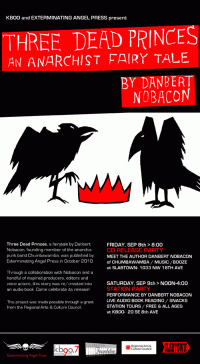 9/8 Three Dead Princes Audiobook Release Party
KBOO is a proud sponsor of the 3 Dead Princes Audiobook Release Party
3 Dead Princes, a fairytale by Danbert Nobacon, founding member of the anarcho-punk band Chumbawamba, was published by Exterminating Angel Press in October 2010.
Through a collaboration with Nobacon and a handful of inspired producers, editors and voice actors, this story was re/created into an audio book. Come celebrate its release!
What:
Audio Book Release and Station Party
Performance by Danbert Nobacon
Live Audio Book Readings / Snacks / Station Tours
When:
Saturday, Sept 8th, Noon - 4
Where:
KBOO Community Radio, 20 SE 8th Ave, Portland, OR
 
Free and All Ages
Sponsored in part by grants from the Regional Arts and Culture Council, and the Celebration Foundation.