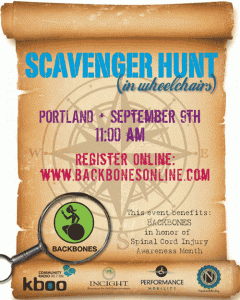 On September 9 BACKBONES will be hosting a PDX Scavenger Hunt for Spinal Cord Injury Awareness Month
KBOO is a proud sponsor of Backbones Scavenger Hunt
Participate in the BACKBONES Scavenger hunt because it's awesome and we're super cool! You will have a blast making a goof out of yourself and your mates while learning valuable stuff about what spinal cord injury (SCI) is and what it's like to live with a disability. Don't expect to know it all at the end of the hunt, this is the condensed version of your SCI education; Cliff's Notes, if you will. It's up to you to take the next step, learn more and educate others. We know you will because when you become a BACKBONE, it's what you do ... be cool!
Registration is $35 PER PERSON
Build a team of 3-5 people and register.YOU WILL NEED TO KNOW YOUR TEAM NAME TO REGISTER. Up to 5 people are allowed to register under one team. Children under the age of 15 must register with their parent or guardian.
At least 1-2 people must use a wheelchair at ALL times during the hunt. "Huh? We have to use wheelchairs?" Yup. Yes you do. In case you didn't get the memo, wheelchairs are pretty bad-ass ... and most importantly, SEXY! If you do not use a wheelchair as part of your day to day life, we will find you one and loan it to you. Be nice to the wheelchair, it's not yours!
Dress comfortably! Wear comfy shoes and your good underwear, this hunt will last more than an hour.
Document all your moves! You can bring just about anything: computer, GPS, compass, maps, money, public transit day pass. No rollerblades or skateboards — Just wheelchairs!
How 'bout some extra credit? Teams may receive extra points for partaking in fundraising prior to the hunt. This means that you should tell your friends, neighbors, family, co-workers and everyone you see with big hearts and big pockets (or little ones) that you are participating in an awareness event for BACKBONES and you would like to raise money so we can keep on being awesome all over the country. For every $50 raised you get extra points. Funds raised must be turned in prior to the hunt starting. Print your donation form.
Prizes. Want to win the PRIZE BAG? Well then, get the job done and do it fast so we can count up your points. If you come back with a sad number of points, don't be discouraged ... There will be amazing Underdog Awards — but you gotta earn it!
After-Party. You may be thirsty and you may be hungry, so we're going to feed you! Stick around for some pizza and drinks. This will be a time to share stories of your hunt and reflect on what you've learned.