Published date:
Monday, October 5, 2020 - 12:44pm
KBOO Election and Annual Membership Meeting, Saturday, Nov 7, 2020, 2:00-4:00 pm - Online via Zoom Meeting
REGISTER FOR THE ZOOM MEETING HERE
KBOO Community Members, we survived 2020! Let's come together on November 7 to celebrate our activism, commitments to justice and democracy, and another year of great KBOO programming despite the challenges of the year. Wear your favorite gas mask and apocalyptic gear at this Mad Max themed annual election party/meeting!
Because of the Covid-19 pandemic, KBOO had to move its regular annual September membership meeting to Saturday November 7. To stay safe, we will have a virtual meeting and celebration! Mark your calendars and join us! Members will hear updates about the station, meet candidates running for four open board seats, and participate in a lively discussion about KBOO's future after surviving 2020.
Join your fellow KBOO Community Radio members along with staff, board members, volunteers, and on-air personalities for a fun afternoon with performing artists Scooter Rogers and Rainezra and host Shrista Tyree
Mad Max End of the World: KBOO's Annual Membership Event
Saturday, November 7, 2020, 2:00-4:00 pm
Where? Virtual space!
Zoom links and other ways to access will be posted on the KBOO website
2020 KBOO Election Information Voters' Guide
Calling all KBOO members! Election Time is Here! It's time once again to vote and make your voice heard. We need to fill four open seats on the Board of Directors and enact three new bylaws. Please learn more about the candidates and view their statements and see the proposed bylaw revisions below. You'll be able to hear more from the candidates and about the by-law changes in an On-Air Forum on KBOO in late October. Members will vote by mail (ballots must be returned in the envelope provided and must be received at the station by Friday, November 6) or drop off ballots just before the annual meeting outside the KBOO station on Saturday November 7, noon-2:00. Because of covid, the station will not be open for drop-off ballots other than November 7—otherwise they must be mailed or cast virtually at the annual meeting. Don't miss this chance to help shape our beloved station!
Ballots must be received in the mail by November 6, or dropped off on November 7, 12-2pm.
Late ballots will not be counted.
Replacement ballots may be requested.
If you do not receive a ballot for each person who is a member, please contact the KBOO
Membership Department immediately (membership@kboo.org).
Election results will be announced at the annual meeting.
VOTE! Your radio station depends on it!
BOARD CANDIDATE STATEMENTS:
Jessica Almroth
As someone born and raised in the Portland area, I know just how unique and valuable KBOO is to our community. I've been a listener and a member/donor for 20 years and I'm really excited about the possibility of becoming a board member. As a community organizer and activist at heart, I've been doing grassroots community work for most of my life. I care about empowering people to make positive changes, which is reflected in my volunteer experiences. I enjoy event planning, fundraising, and administrative work, and I've volunteered with Call to Safety, PCC and PSU's Women's Resource Centers, SMYRC, and Planned Parenthood. I'd love the opportunity to diversify my volunteer experience by joining the Board at KBOO.
I work as the Volunteer and Operations Manager at Rose Haven, a day shelter and community center for women, children, and gender-diverse folks experiencing the trauma of homelessness. This role has given me the opportunity to increase my advocacy and leadership skills, and has helped me better understand experiences different than my own. I work with a diverse group of staff and volunteers, and my warm, friendly and welcoming personality contributes to an environment where people feel valued and welcome.
As part of the management team, I work in coalition with Rose Haven's Board to adapt and change our programs as needed to continue serving our community during the COVID-19 pandemic. This has been one of the most challenging years I've experienced and it has taught me so much about the importance of community based, grassroots work and mutual aid.
I'm interested in gaining non-profit experience by joining a Board of Directors, and I believe that joining KBOO's board would be a mutually beneficial experience. I am fun, creative and positive, and I want to use my leadership skills to support others. A good leader empowers others to lead, and I don't feel the need to be in the spotlight to make a positive impact. KBOO is such an important asset to our community, because it amplifies voices we don't hear on mainstream radio. At a time of social justice uprisings, protests against police brutality, a vital election year, and global pandemic, it's increasingly important to have access to media that isn't influenced by corporate interests. As someone who is passionate about independent music, I love having a go-to station where I can hear artists that I wouldn't find anywhere else. Music from the True Vine is the best way to start my weekend, but I know I can tune anytime to hear something interesting and unique!
I want to contribute toward the future of community radio by serving as a board member and I thank you for your consideration! I am a team-player, who is willing to listen and learn, and I think my leadership skills, creativity, and dynamic personality will be an asset to KBOO's Board of Directors!
 "Lasha" Natasha Jeanette Delepine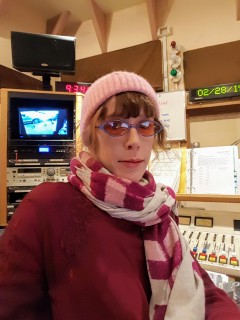 I have served on the KBOO Board for a short time in 2017, but left due to rising conflicts and my own lack of confidence. I look back now and wish I would have stayed on, to help steer, but I cannot paralyze myself with "what-ifs" any longer and wish to move forward as the world and board will too. I would bring the arts in as a unifying experience in the face of an ongoing conflict, to find common ground with calming activities. I would like to apply myself in addressing policy, as well as having further goals of outreach to promote our communities' wellbeing.
My first experience serving on a Board of Directors was for a service based organization the YWCA of Clark County as their Youth Representative. I may not have spoken often then, but when I did, I could help to unify the board. I felt power from being heard and from reframing the Board's conversation from conflict.
My experiences as temporary Administrative Assistant at both Multnomah County and the City of Portland were invaluable, especially by giving me the chance to validate my voice, learn the core competencies of successful work environments (and creating equity) as well as meeting strong, diverse leaders in our community. During my time at Multnomah County I was afforded the opportunity to help lead a diversity training onboarding exercise. The collaboration and preparation for the training as well as my experience leading it gave me insight on how to better lead by listening. I simply wish I asked more questions and gave more opportunities for connection and personal reflection. While at the City of Portland's Bureau of Planning and Sustainability I was given a "birds eye view" of how operations, management and policy were handled in Portland. As well as with the connections made there, I learned how some change may come about, and how Portland communicates some of these changes with its citizens.
I bring my experience of growing up queer and intersex and being able to communicate my difference early, while also having the privlidge of being white and cisfemme and first growing up within a stable household. Throughout my life I have experienced violence and I have made it my path to understand it in the many forms in which it comes. I believe if we humans find a way for our needs to be met, we can and do act out of love, but I do strive to learn how violence begins as a learned behavior and how we can change generational violence. Communication and mediation are key; developlemental psychology and feminist studies help shape how I communicate about these difficult topics. I will always be eager to ask questions, listen and learn if I am to be on your board. I do my best to ask the right questions and listen always, no matter the difference in our perspective. For it is in that difference we can learn.
Alyssa Hundersmarck
Poverty alleviation, advocacy and social work are central to my career and life purpose. I have had the honor of serving my community at several nonprofit organizations with a focus in youth advocacy, homelessness and housing, anti-recidivism, severe and persistent mental illness and Indigenous communities. I am from the Navajo Nation in Arizona and completed a year of AmeriCorps VISTA service on a leadership team addressing housing for the urban Indigenous community of Salt Lake City. This was a partnership between The Housing Authority of Salt Lake and The Urban Indian Center of Salt Lake. I gained incredible insight of nonprofit operations and housing development. I have carried this work with me to the Pacific Northwest, with the goal of addressing disparities and service gaps specifically related to Indigenous homeless youth, in conjunction with the efforts of the Missing and Murdered Indigenous Women movement. I currently work in direct capacity with the unhoused community of Vancouver, WA, as well as female youth in a residential behavioral health setting. I believe with my diverse background and community-centered focus I can offer unique perspective through an Indigenous lens, with emphasis on poverty, mental health and homelessness solutions, as it aligns with the inherent social efforts of public radio and the mission of KBOO.
Layla Kanaan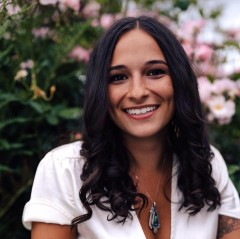 My experiences that prepare me for a governance position on the KBOO Board of directors encompass that of a student organizer doing on-campus advocacy, policy demands, and petitioning for pro-BDS (Boycott, Divest, & Sanction Israel) group SUPER (Students United for Palestinian Equal Rights) at the University of Oregon, to work as a KBOO radio host in correspondence with renowned international journalists covering the political repression of Palestinians, to personal experience witnessing the conditions of my extended family living under Israeli occupation in the West Bank. Although my advocacy predominantly focuses on the plight of Palestinians, I have always maintained a perspective that connects the circumstances in places like the Middle East, with economic conditions, policy decisions, and political structures in the USA, for example, all configured within a framework of global power and hegemony. As the daughter of a Palestinian immigrant and a public health policy advisor, my upbringing influenced my political perspective such that it reflects both the fine-tuned and rigorous specificity of public health, as well as the broad-based internationalist perspective of a refugee, both of which emphasize the interfacing between persons and systems. In addition to instilling an awareness of the interdependence of our world, my parents' own work in activism empowered me to pursue a degree in International Studies and a minor in Arabic as part of a larger personal ambition to increase accessibility and enfranchisement amongst underrepresented people and cultures. In my time at UO, I became involved with a group known as SUPER. Broadly speaking we were a pro-Palestinian student activist group. However, a specific culmination of our advocacy came when the UO Student Senate passed a resolution in favor of supporting BDS regulations on campus after SUPER's campaign to bring this resolution before the student senate garnered support from student groups like Decolonizing Judaism, the Muslim Student Association, the Native American Student Union, and the Southeast Asian Student Alliance. Despite the support from diverse student groups, the hearing for the resolution drew hundreds of students to voice their concerns or support for the resolution, a majority of which were answering to a call from pro-Israel student groups on campus. The significance of this resolution passing a student senate at a liberal university was marginal, much less considering that the student judiciary struck it down the next year. But in my experience, this represented a moment in which the rightful concerns for Palestinian equal rights gained support from a broader public, particularly at an institution like UO, whose insignia can be seen on billboards around Israel, promoting the University, and which has ongoing contracts with several companies which operate in the occupied West Bank.
Jason Sibert
I want to serve on the board of KBOO because I have listened to the station and enjoy its content. Community radio is important because it gives the listener a break from commercial radio which is dominated by commercial interests. Community radio is responsible only for its listeners. This form of radio is also important to communities because they bring individual communities quality news, something that commercial radio fails to do because of commercial pressures. By serving on the board, I would play an active role in bringing this media to the public.
As far as activist experience, I work as the executive director of the Peace Economy Project in St. Louis. PEP works for an economy based around human needs instead of the needs of the military-industrial complex. I write works of opinion journalism, letters to the editor, and stories advocating diplomatic solutions for foreign policy problems. I also run an Arms Control Fellow program where I teach college students the past and future of arms control. My work often takes my into the streets, as I participate in demonstrations for higher wages for fast food workers, police reform, and scientific integrity.
I currently work with the PEP board on all issues that concern us. I also serve on the board of directors of the St. Louis chapter for Veterans for Peace and on the local chapter of the United Nations Association. I contribute to those organizations by handling finances and designing media for them. I also participate in demonstrations on the issues they care about.
My concern for non-violent solutions to problems fits well with KBOO's mission. In addition to my non-profit experience, I've worked as a staff writer and a freelance journalist for over 20 years. My media background would be great for your community radio station. Serving on the board would allow me the opportunity to continue to pursue my interests in a different way, not to mention it would be an honor on my part!
Brian Setzler
I am a 35-year KBOO member and have volunteered in a number of capacities over the years including serving on the KBOO Board between 1998 and 2000. I am a Certified Public Accountant and have an MBA in Sustainable Business. I have a strong background in organizational development and non-profit leadership. I currently serve on the Board of Livelihood NW and until recently, did the taxes and accounting for Brown Hope since their inception. I helped co-create co-housing and other coops in Portland. I am a co-founder of the Pacific Green Party. I've been an activist for the past 40 years. I was the founder of TriLibrium, a certified B-Corp CPA firm.
During my previous BOD service at KBOO, we successfully defended an FCC lawsuit, fired Pacifica Radio and created the KBOO News Service, created an endowment fund, developed a hugely successful process to free ourselves from the need for federal funding. I worked with Shaheed and Celeste, two of the current leaders at KBOO and have worked with Emma over the years as well.
I value co-creation and look forward to bringing my skills and expertise to help KBOO through its current challenges and opportunities
PROPOSED BYLAW REVISIONS:
Bylaw Revision 1:
The KBOO board of directors asks foundation members to approve the following bylaw revision, to reduce the possibility of a potential conflict of interest among board, management, staff, and foundation members.
ARTICLE VI [6]: BOARD OF DIRECTORS
(new text in bold)
Section 14. Compensation. [Current text: Board members shall not receive any salaries for their services. No person shall serve as a staff and Board member at the same time,] [NEW TEXT: regardless of whether the person is paid or unpaid in the staff position, except with unanimous approval of all currently seated Board members].
Bylaw Revision 2:
The KBOO board of directors asks foundation members to approve the following bylaw revision, to improve accessibility and participation of members, and to reduce the foundation's printing and mailing costs. Please note, this revision does not require electronic voting, but provides the option.
ARTICLE VI [6]: BOARD OF DIRECTORS
CURRENT:
Section 5. Election. At each annual election, the members of the corporation shall by ballot elect one-third of the members of the board, the nominees receiving the most votes being elected. Candidates may run for election by submitting a statement of interest to be received by the Nominating Committee, or its designee, at least nine calendar weeks prior to the election. The board of directors shall be responsible for ensuring that an adequate number of candidates representative of the diversity of the corporation's members are nominated. The election shall be conducted by mail and at the annual meeting. The election shall be concluded at the annual meeting by a count of ballots returned by mail and ballots cast at the annual meeting. The results of the election shall be announced by the president, or the president's designee, at the annual meeting.
PROPOSED REVISION TO ALLOW ELECTRONIC VOTING (revised text in bold):
Section 5. Election. At each annual election, the members of the corporation shall by ballot elect one-third of the members of the board, the nominees receiving the most votes being elected. Candidates may run for election by submitting a statement of interest to be received by the Nominating Committee, or its designee, at least nine calendar weeks prior to the election. The board of directors shall be responsible for ensuring that an adequate number of candidates representative of the diversity of the corporation's members are nominated. The election shall be accomplished by mail through a paper ballot or, if the member consents, by electronic ballot, or both, as authorized by the Board. A member who agrees to vote by electronic means in an election is not bound to vote by electronic means in a future election. The election shall be concluded at the annual meeting by a count of paper ballots returned by mail, electronic ballots returned one week before the annual meeting, and paper ballots cast at the annual meeting. The nominees receiving the most votes will be elected. The results of the election shall be announced by the president, or the president's designee, at the annual meeting.
Bylaw Revision 3: The KBOO board of directors asks foundation members to approve the following bylaw revision, as it will make notices of special meetings more accessible to more board members, as well ensure that notice is received and responses can be expected.
Article VI: BOARD OF DIRECTORS
(new text in bold)
Section 11. Special Meetings. [Current text: Special meetings of the board of directors may be called by the president or any four board members, or by written demand delivered to the secretary signed by at least five percent of the members of the corporation and describing the purpose or purposes for which it is to be held. Notice of special meetings shall be delivered to each board member personally, or by telephone,] [NEW TEXT: electronic mail, or text message,] [current text: not less than two days prior to the special meeting, or by mail, with a postmark of not less than four days prior to the special meeting.] [NEW TEXT: Board members shall acknowledge receipt of notice.]