Air date:
Tue, 04/02/2019 -

11:30am

to

12:00pm
More Images: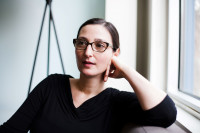 Joseph Gallivan interviews Tsilli Pines and Vidya Spandana about Design Week Portland, which happens from April 6 to 13
On Tuesday April 2, 2019 at 11:30 am Joseph Gallivan interviews Tsilli Pines and Vidya Spandana about Design Week Portland, which happens from April 6 to 13.
Pines talks about some of the events to catch this year and how the design scene in Portland is pushing boundaries, while Spandana talks about the effort to have designers get the word out about the census in April 2020.
Read more from the Portland Tribune
https://pamplinmedia.com/but/239-news/423971-327340-humanity-wins-a-prev...
FROM THE PRESS RELEASE:
Festival
A spirited week of programming presented each year. Hundreds of independent events and open houses, conceived and hosted by Portland's vital creative community.
Community
A directory encompassing the multitude of talent behind Portland's unique design culture and economy. Join to be visible in this vibrant community, and find other members by their area of expertise.
Stories
Highlighting the region's most interesting people, places, and projects, curated editorial content from Design Portland will share the inspiring stories that shape our unique design landscape.
Calendar
Beyond the DWP festival, the Design Portland calendar will become the singular year-round source for what's happening in our city's design community, across disciplines.
Launching in April!
In 2012, a group of designers collectively launched a week-long, all-inclusive festival celebrating the projects and processes as told by a creative community across many disciplines. The festival was a reaction to a city being made better by design. By creativity in all forms. By collaboration.
That first year produced over 100 events throughout Portland. These gatherings, whether large or small, swung open doors to the city's studios, agencies, manufacturers, shops, museums, retailers and restaurants that shared a DNA bound by design.
Over the course of seven years, the festival has grown to include many hundreds of events and open houses each year. The problem? With further growth, be it deep or wide, a week would no longer suffice. And moreover, these conversations deserved not to be constrained by a smattering of days.
Thus the festival platform continues its evolution; the structure itself, a changing manifestation of an emerging city and a community's demand for greater connection and visibility.
The festival remains a hub of activity during a single week in April. But as it emerges from the constraints of a mere seven days, Design Portland will move into its place as the central address for design in Portland. Answering a community call for year-round curation. A whole being made even greater by the sum of its many parts, the true proclamation of Design Portland is articulated by three collective expressions: Community, Stories, and what will become an ongoing Calendar. All are made possible through a new model fueled by generous support from student, professional and institutional members. In other words, you.
Membership in Design Portland will sustain our shared community and enable tiered access to the most inspiring events, content, and people making great work right here. Design Portland is an entry point for connection. A space for participation. The pulse of the creative ecosystem.
So the heart of the question that confronted a couple of friends many years ago remains as it always has; how will we reflect the culture here?
The answer is within us. In design. Together.
https://designportland.org/festival/2019
Joseph Gallivan has been a reporter since 1990. He has covered music for the London Independent, Technology for the New York Post, and arts and culture for the Portland Tribune, where he is currently the Business Reporter. He is the author of two novels, "Oi, Ref!" and "England All Over" which are available on Amazon.com
This show was recorded at KBOO on March 24, 2019 Production 3.
Update Required
To play the media you will need to either update your browser to a recent version or update your
Flash plugin
.
Download audio file