Air date:
Wed, 01/27/2021 -

8:00am

to

9:00am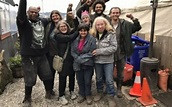 Resident of tiny house village in North Portland joins Paul for the hour
On Monday, January 18, the City of Portland gave notice that it would cut off services within a month to the five-year-old self-governing Hazelnut Grove tiny house village of formerly houseless people, and that the remaining 10 or so residents would have to move. The innovative experiment is on city land in North Portland between the Overlook neighborhood above and the North Portland industrial zone on the Willamette River. Following in the footsteps of Right 2 Dream Too and Dignity Village, two other self-governing encampments of the houseless, Hazelnut Grove has become a model for other similar villages in Portland and elsewhere, but it was never formally sanctioned by the city and faced continual opposition from the Overlook Neighborhood Association.
Those resisting the closure of Hazelnut Grove have this to say:
We stand against demolishing the village
- it has been home to some residents for more than 5 years , providing community and stability
- self-governance means letting people have authority over their own lives
-the history is that the city pledged to move Hazelnut as an intact community, then made a public- private deal in St Johns to form a service agency run village, which would consider Hazelnut Grove folks as individual applicants only, with self-governance cast aside.
- many articles list fire danger, landslide risk and soil toxins as problems for the current village sight. I've been friend and board member to HG for 3 years. During all that time only fire risk was raised with the village, and residents work cutting back brush and getting approval for their work. The last 2 are newly noted risks. We would have to have monsoon conditions for the hill to slide. Toxic soil? Never previously mentioned: shoe proof, city we say.
-Dan Ryan announced they'll begin taking down the village in February. Even the NIMBY Overlook Association advise waiting til summer.
- articles keep saying there are arrangements fir all residents: only 5 have decided to go, and of the other 10, one is moving out of state and the others have no plan B.
- crime has decreased in the neighborhood with HG there. (Covid, unemployment etc is changing crime stats, but not attributable to HG
- Not one HG resident has so far gotten covid
-we have a petition online at the oregon poor people's campaign web site and ask ask anyone listening to sign it.
- we'll have a public presentation of the petition at city hall on Monday 2/1 at 1 pm and ask allies to join us that day.
Is this what you are looking for?
Today's guest Josh works full time and his residence at Hazelnut Grove allows him to support his daughter. A devoted dad, he organized his pre-Covid life around her commitment to dance.
Petition to stop the closure of Hazelnut Grove Village.
https://www.portlandmercury.com/blogtown/2021/01/22/31451040/with-hazelnut-grove-set-to-close-city-looks-to-expand-village-style-shelter-options
Update Required
To play the media you will need to either update your browser to a recent version or update your
Flash plugin
.
Download audio file