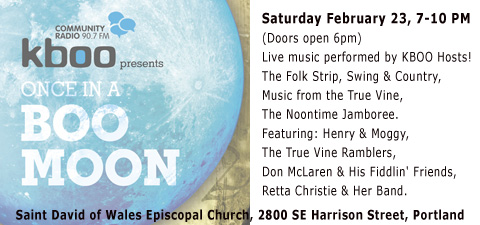 Once in a Boo Moon
Wednesday, May 22, 2013

8:00 AM

-

9:00 AM

Portland Mercury news editor Denis Theriault joins KBOO's Joe Meyer for an election recap. on

Wednesday Talk RadioPortland Mercury news editor Denis Theriault joins KBOO's Joe Meyer for a 'morning after' election special,We will recap the election results and open up the phone lines for your calls at 503 231 8187.

9:00 AM

-

10:00 AM

"What's Happening in Community Radio? Challenges, conflicts, opportunities" Host Paul Roland on

Political PerspectivesPaul Roland interviews Norman Stockwell of WORT radio in Madison, Wisconsin on the state of community radio in the US. With call-ins. With the financial meltdown; deregulation of the airwaves; competition from the internet, MP3 players and social media; aging listenerships and other factors, community radio is facing many difficulties and threats. AS a long-time community radio "activist," Stockwell has a valuable perspective on the challenges and opportunities facing community radio. He has been involved with WORT for 30 years and currently serves as Operations Coordinator as part of their staff management collective. He is also staff representative on the station Board of Directors. He has hosted programs of "A Public Affair" since 1989.

11:00 AM

-

11:30 AM

PDX Death Cafe -- embracing life through opening to death on

Recovery ZoneMorbid or life-affirming? Last month Holly Pruett initiated Portland's first-ever Death Cafe. Modeled on similar gatherings taking place in Europe, participants were encouraged to talk freely about life, death and dying while sipping tea and enjoying delicious treats at the Bijou cafe. Over 60 people attended and another event is planned for June. Learn more and join the conversation with host Stephanie Potter and her guests, Holly Pruett, Life-Cycle Celebrant and PDX Death Cafe organizer, Kate Brassington, who co-hosted the PDX Death Cafe, and Karen Paule, participant.

11:30 AM

-

12:00 PM

Portland Street artists discuss creative interventions in public spaces on

RadiozineHost Kathleen Stephenson speaks with N.O. Bonzo and Tomas Valladares of The Portland Street Art Alliance about promoting creative interventions in public spaces and about upcoming events. Image above is the mural on the back of Music Millennium by artists The Lost Cause and Jon Stommel.May 23rd, "Public Art, Not Clear Channel Signs"Paint and Teach-In, Thursday, May 23, 2013 5:30-8:30pm at Montgomery Park, 2701 NW Vaughn St.

7:00 PM

-

8:30 PM

Panel on The Portland Women's Movement: Fighting for Ideas and Dollars on

Special Programming: Public Affairs Live Broadcast on KBOO: Panel on The Portland Women's Movement, Part 3: Building: Fighting for Ideas and DollarsOrganized by the History of Social Justice Organizing & the Center for Women, Politics and PolicyWhere: 2nd floor Gallery, Urban Affairs Building, Portland State University, 506 SW Mill, PortlandFree and open to the publicTen years before gaining official recognition as a program, female students and professors met to plan and implement the inclusion of Women's Studies courses at Portland State University. They held an event in the school's ballroom and began offering ad hoc classes., later hiring a coordinator. Eventually Women's Studies became an official program and then a department offering a major.
Thursday, May 23, 2013

9:30 AM

-

10:00 AM

Resistance Ecology;Interview with Animal Rights activist Justin Kay on

A Deeper LookResistance Ecology, a new organization and a new movement intent on bringing together activists and organizations from both Animal Rights and Social Justice to form an adaptive and resilient movement capable of responding to the government's ever changing modes of suppression. The First Annual Resistance Ecology Conference is this May 31st at PSU. Join me Linda Olson Osterlund and organizer Justin Kay to talk about resistance ecology and the upcoming conference.